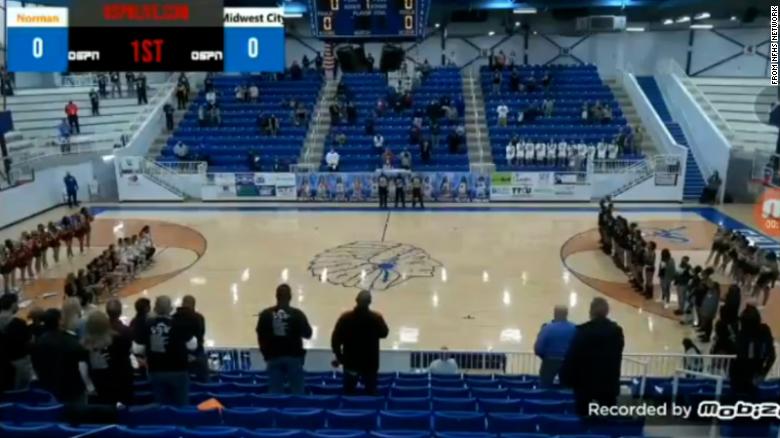 Matt Rowan, a high school broadcaster who was calling an Oklahoma high school basketball game between the girls of Norman High School and Midwest City high school on Thursday (March 11), was caught on a hot microphone calling the Norman girls the n-word after they chose to kneel for the national anthem.
Rowan's call of Norman and Midwest City was being broadcasted on the National Federation of State High School Associations (NFHS) Network, streaming live on the internet. Once the national anthem played, the Norman girls took a knee in solidarity, much to Rowan's dismay and shock.
"They're kneeling?" Rowan asked in disbelief. "F***ing n****rs."
He didn't let up, adding, "I hope Norman gets their ass kicked. F*** them. I hope they lose…"
The entire incident was caught on a hot microphone for viewers to see and ultimately hear.
NFHS was quick to denounce the remarks from Rowan and cut ties with him immediately.
"The thoughts expressed in no way represent the NFHS Network and we are outraged that they found their way into our production," the organization said in its statement. "We are aggressively investigating the incident and have immediately cut ties with the third-party production crew that was involved."
However, Rowan's "apology" on social media set off another firestorm of controversy and even jokes. In a press release, the disgraced announcer blamed his racist diatribe on … his blood sugar levels being low.
"I will state that I suffer Type 1 Diabetes and during the game my sugar was spiking," Rowan said in his statement released on Friday (March 12). "While not excusing my remarks it is not unusual when my sugar spikes that I become disoriented and often say things that are not appropriate as well as hurtful. I do not believe that I would have made such horrible statements absent my sugar spiking."
He apologized and professed himself to be a former youth pastor and a Man of God but it didn't stop people from bringing out all the jokes about this discovery about what makes you say racial slurs and disrespect Black people.
Ironically enough, not only did the Norman girls go on to win their matchup against Midwest City on Thursday, they completed their quest, winning the Oklahoma 6A High School Basketball championship on Saturday (March 13), going undefeated in the process.
As for diabetes, a quick search on WebMD reveals low blood sugar or hypoglycemia can cause "confusion, abnormal behavior or both" but not be flat-out racist to teenagers taking a knee before a basketball game.
Type Hard R: PA Announcer Blames Diabetes For Calling Girls HS Basketball Team The N-Word  was originally published on myhoustonmajic.com