It's hard to say anything about Trump cheating on his wife is a "bombshell" report, but Ronan Farrow's latest for The New Yorker reveals a slew of grimy details on 45's trifling ways.
Reportedly, former Playboy Playmate of the Year Karen McDougal had a nine-month affair with the President while he was married to Melania.  McDougal claims they met in 2006 during a taping of The Apprentice at the Playboy Mansion in Los Angeles — only year after Trump married Melania and the same year she gave birth to their son Baron. McDougal alleges they had sex immediately, which continued for nine months and ended in April 2007. He paid for everything but made sure there was never a paper trail, which is exactly what a cheating millionaire would do.
Ronan reveals far from shocking details, which he obtained in an eight-page, handwritten document written by McDougal. Allegedly, a Playboy executive thought McDougal could be his next wife — even though he was newly married. He tried to pay McDougal the first-time they had sex but she wrote in a letter, "'I slept w/you because I like you — NOT for money' — He told me 'you are special.'"
That said, it wouldn't be a Trump story if race wasn't somehow involved. McDougal claimed that he often made derogatory comments to her friends. When one of her friends said she dated a Black man (who knows why she randomly brought that up), Trump's little hands were fascinated, especially by the penis. He allegedly said she liked the "the big Black dick." Multiple sources confirmed Trump made the comment. Maybe that is why Trump is such a racist. No amount of money can buy him a big Black dick.
Well, Melania isn't going anywhere. Ain't nothing going on but the rent for the Slovenia queen.
However, let us never forget this classic moment below.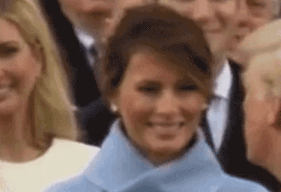 SOURCE: The New Yorker
SEE ALSO:
Will Alabama's Black Voters Turnout For Crucial Senate Race?
President Donald Trump's Voter Fraud Claims Could Lead To More Voter Suppression
Trifling Trump: New Nine-Month Affair Revealed — And His Fascination With Black Penis  was originally published on newsone.com